Automated De-Powdering System for 3D Printing
Featured Product from Additive Manufacturing Technologies (AMT), Inc.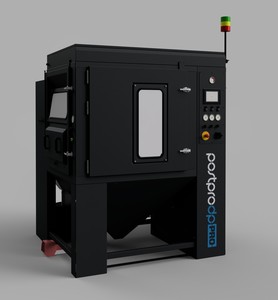 The PostProDP range has been specifically designed for the AM industry, and provides a standalone high throughput industrial de-powdering solution. Features include an internally located adjustable and removable tumble basket to allow optimized part cleaning, as well as minimizing the fine particulate powder leakage after processing.
Furthermore, ionizing nozzles leave the parts completely powder free after blasting. This unique design configuration allows for a safer and more efficient user experience. The systems are equipped with a recipe-controlled PLC controller preloaded with recipes for each common material combination, therefore offering a truly plug and play solution.
The PostProDP is 3D printer material agonistic and works with all powder-based printer platforms including HP Multi Jet Fusion, EOS, and 3D Systems, as well as a range of thermoplastic polymers such as polyamides and elastomeric materials.
The system can be run with multiple medias, including steel balls, and takes 10 minutes to remove all the powder without damaging any of the parts.
The POSTPRODP PRO is CE and ATEX certified. The POSTPRODP PRO is designed to be used in processes where the consumable media and dust are combustible. There are safety components in the machine to reduce the risk of fire or explosion.

Atex Class II 3/-D T125°C.
PostProDP Pro have been tested with customers across Europe and the USA. The systems are available to order now from AMT.