Adhesive CAD Symbol
Featured Product from Adhesives.org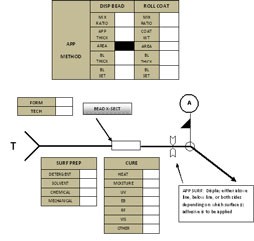 Using the ASTM D7447-08 Standard Practice for Symbolizing Adhesive Applications and accompanying electronic symbol, engineers, architects, designers and others can more conveniently specify adhesives by graphically representing them on computer-aided design (CAD) drawings.
The ASTM D7447-08 standard provides design, fabrication and other reference material to assist the designer/engineer in successfully adding a specific adhesive to a design.
Developed exclusively for the design-engineering community, individuals can download a free, executable plug-in of the symbol and use it in several versions of AutoCAD® and Autodesk Revit®. It is also compatible with TurboCAD®.
The benefits are two-fold. The electronic symbol saves users' time, while including more specific information about the adhesive-such as chemistry type, surface preparation requirements, application method and curing instructions. Instructional videos are also available to assist users in downloading and using the plug-ins.