RECESSED DOCK LIFT
Featured Product from Advance Lifts, Inc.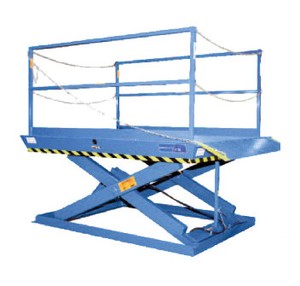 MODEL T3-50608 RECESSED DOCK LIFT
2 Year Parts & Labor/10 Year Structural Warranty
These are by far the most popular size Disappearing Dock lifts sold. They are sized to handle pallet jacks, four-wheel carts or dolly trucks. They are also used for dock to ground access.
T2, T3 & 2000 Series Recessed Dock Lifts
These are by far the most popular size Disappearing Dock lifts sold. They are sized to handle pallet jacks, four-wheel carts and dolly trucks. They are also used for dock to ground access.
SPECIAL FEATURES
All models are equipped with a hinged bridge with a pull back chain.
All of the electrical controllers are Underwriters Laboratories approved assemblies.
Each unit is washed with phosphoric acid, fully primed and then finished with baked enamel.
All cylinders are machine grade with clear plastic return lines & internal mechanical stops.
All pressure hoses are double wire braid with JIC fittings.
Reservoirs are mild steel.
These units conform to all applicable ANSI codes.
All units are designed for use with pallet jacks, four-wheeled carts and hand trucks. Their rugged tubular construction offers more rigidity with less weight than the solid bar leg alternatives. A wide assortment of accessories for these units is available.MODEL 2400:This model was designed to fit into a typical dock leveler pit. The short platform length means the scissors legs are also shorter, therefore, travel is restricted to 40″. However, since dock levelers are only installed in raised docks, the 40″ of travel is more than sufficient.MODELS 2500K & 2010K:For decades, these have been the most popular dock lifts in the country. Their 10″ pits are very easy to build and afford crush space between the bottom of the bevel toe guard and the bottom of the pit, for any debris that may fall into the pit.T SERIES:Many dock designers are now specifying 8″ pits and this series of lifts is designed to fit them. The "T" series replaces our original "2000" series that was the industry standard for 25 years. It is not unusual for us to sell consumable parts such as wheels and cylinder packing kits for units that are 30 years old and still going strong. The new "T" series shares all of the robust engineering features of its workhorse predecessor and should serve equally well.
WHY USE WORK ACCESS LIFTS: Safety is the prime purpose of all work access lifts. They are designed to move production personnel, their tools and materials to ergonomically sound work positions to enhance both worker safety and efficiency. The alternatives to these lifts include ladders, scaffolding or simply allowing workers to work in awkward, tiring or dangerous positions.
WHERE TO USE WORK ACCESS LIFTS: Production applications are broadly varied and may include welding, painting, assembly, fabrication, inspection and maintenance. Because each application is unique to the task being performed and the object being worked on, each lift must be custom designed to the specific application. This guide is designed to help you organize and prioritize your requirements so they may be resolved into appropriate specifications for your work access lift.
Work Access Complete Design Guide
This is a complete application guide for designing work access platform lifts and it includes photographs and movies that illustrate optional features as well as views of completed units to help explain the full scope of customization that is available. Our goal is to stir your imagination so that working together we can optimize a design to fit your application perfectly.
Advance Lifts is a leading lift manufacturer providing a complete line of dock lifts, lift tables, scissor lifts, turntables, dumpers and stretchers.
Advance Lifts was founded in 1974 and quickly became the leading scissor lift, industrial turntables, and dock lift manufacturer in the country. We have maintained this position through innovative design, quick deliveries and superior service. Over the years our product lines expanded to include production lift tables, tilters, turntables, dumpers, mezzanine lifts, work access platform lifts and stretch wrappers.
Our modern 120,000 sq. ft. facility in St. Charles, Illinois houses state of the art equipment and a well trained group of engineers and production personnel, who are dedicated to providing our customers outstanding products.
We have an in house UL listed panel shop and are ISO 9001 certified. Our goal is to make the entire process of buying, installing, using and servicing of our products as easy and trouble free as possible for each and every one of our customers.

Find An Advance Lifts Distributor Near You