Suitable low volume stretch wrapping operations
Featured Product from Advance Lifts, Inc.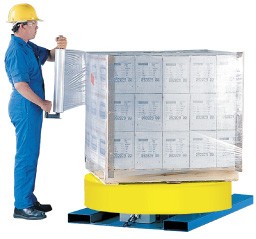 Advance Lifts Series 100 Stretch Wrap Equipment series are the most economical and basic models that are suitable for low volume stretch wrapper operations. While they do not offer the automation or cost saving features of our more sophisticated machines, they do offer a giant step up in safety and productivity from simply walking around a load with a roll of film in hand. The cost / benefit ratio of these machines is very attractive.
Our line of stretch wrappers now includes two complete series. We have the entry level series with incremental levels of operator assistance and the semi automatic machine series designed to maximize the savings from the new high performance stretch wrap materials.
Series 100 - 6,000 lb. Stretch Wrap Equipment:
Capacity: 6,000 lbs.
Load Size: 52 x 52 in.
Platform Diameter: 48 in.
Lowered Height: 3.25 in.
Turn Table: .75 HP
Variable Speed: 0-12 rpm
Voltage: 115/60/1
Shipping Weight: 600 lbs.
Special Features and Benefits
All steel construction.
Fork pockets for lifting from either front or back of unit.
Tilt down mast for secure and easy shipment.
Advance Lifts is a leading lift manufacturer providing a complete line of dock lifts, lift tables, scissor lifts, turntables, dumpers and stretchers.
Advance Lifts was founded in 1974 and quickly became the leading scissor lift, industrial turntables, and dock lift manufacturer in the country. We have maintained this position through innovative design, quick deliveries and superior service. Over the years our product lines expanded to include production lift tables, tilters, turntables, dumpers, mezzanine lifts, work access platform lifts and stretch wrappers.
Our modern 120,000 sq. ft. facility in St. Charles, Illinois houses state of the art equipment and a well trained group of engineers and production personnel, who are dedicated to providing our customers outstanding products.
We have an in house UL listed panel shop and are ISO 9001 certified. Our goal is to make the entire process of buying, installing, using and servicing of our products as easy and trouble free as possible for each and every one of our customers.

Find An Advance Lifts Distributor Near You