Highly Effective Super Soft Rubber Mounts from AAC
Product Announcement from Advanced Antivibration Components - AAC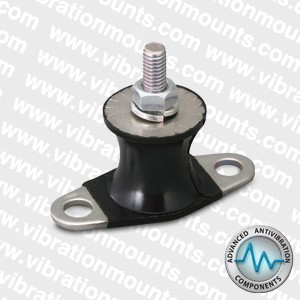 New Hyde Park, New York — A new series of super soft rubber base mountings from Advanced Antivibration Components - AAC is highly effective for isolating light load applications including: pc boards, controllers, small pumps, fans, motors, compressors, etc.
Identified as the V11Z03MMKXB... series, they are designed to isolate a nominal load of 29 N (6.52 lbf) and a maximum load of 58 N (13.04 lbf). These 15 durometer soft rubber mounts feature a low spring constant. They are designed for use in compression only. The zinc plated steel end plates are serrated to prevent twisting during installation. Operating temperatures should be below 50°C (+122° F). A double stud mount with similar specifications, identified as the V11Z03MMMKXA... series, is stocked in 4 sizes.

At Advanced Antivibration Components - AAC, we provide products exclusively related to the elimination of vibration, energy absorption and protection of components and devices from shock and possible destruction. Many are suitable for use in extreme environmental conditions. Of special interest is a complete selection of silicone gel stud mounts, pads, and foam sheets, as well as paste-type and sheet-type thermal gel.
Advanced Antivibration Components provides vibration and shock absorption solutions. Stock items are offered in a wide range of sizes and configurations to offer the broadest range of product to choose from.
Advanced Antivibration Components - Global Source for Shock and Vibration Solutions, is a brand of Designatronics Inc.,
Phone: +1 516-328-3662 • Fax: +1 516-328-3365
Designatronics, Inc.
2101 Jericho Turnpike, P.O. Box 5416, New Hyde Park, NY 11042-5416.
Phone: +1 516-328-3300
www.designatronics.com
---