Ball Grid Array components giving you headaches?
Service Detail from Advanced Assembly, LLC.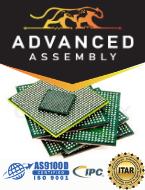 Guide to Ball Grid Arrays (BGA)
Ball Grid Array components giving you headaches? Check out Advanced Assembly's guide to BGAs. Also, take your research a step further and read through the resource on component placement in the age of automation!
Watch>>>Why We're Different
Advanced Assembly
Advanced Assembly is located in Colorado and is the #1 printed circuit board assembly company that provides services specifically for engineers needing fast prototype PCB assembly. The company's assembly services are in demand by design engineers across all industries and multiple countries. Customers include 23 of the Fortune 500 companies such as 3M, Agilent Technologies, GE, HP, Microsoft, Lockheed Martin, Honeywell, Raytheon, and L-3 Communications. Examples of customer projects assembled by Advanced Assembly include automated insulin dispensers, sports scoreboards, army drone helicopters, hybrid automobiles and more.
To quickly assemble orders with extreme attention to accuracy, Advanced Assembly developed a proprietary software solution that automatically programs an assembly machine using customer-provided data. Now it is cost-effective to use machines to assemble any size order, even one board, and quality is improved by eliminating the potential for human error.
Engineers lean on Advanced Assembly's in-house expertise for advice and new services have been added to make outsourcing assembly even easier. One of the most unique value-added services offer is the ability to view designs prior to assembly. Advanced Assembly creates a digital image of a customer's design based on actual manufacturing data. This helps customers fix potential problems before they cause delays or costly rework. No other competitor provides this service, which Advanced Assembly offers free of charge.