A Model for Reliability
Featured Product from Advanced Energy Industries, Inc.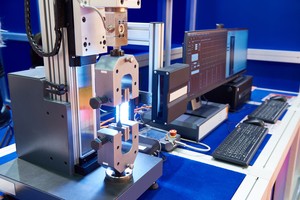 A Model for Reliability – Accelerated Life Tests at Advanced Energy
We spend a lot of time thinking about how to make our products fail in the lab. We know that the more time, effort and thought we put into identifying failure modes during the early stages of development, the better the reliability of the end-state product. I'll come right out and say what you are thinking: Every company understands that. Yet, some products are more reliable than others. Why?
We've recently written a white paper – Accelerated Life Test Principles and Applications in Power Solutions – that describes our methodology for making sure that the products we develop for our customers meet and often exceed their requirements. In it, we look at three of those components and the accelerated life tests we apply to semiconductors, passive parts and electromechanical parts.
While I encourage you to download your copy and dig in, let me describe what to expect, so you can know that what we've developed is of value to you.
We Set Tolerances Low, So Quality is High
Lead development engineers building complex products use many different parts and various types of parts. Consequently, test design necessitates the careful application of multiple acceleration models, as the aging of individual parts varies by failure mechanism.
Our customers expect acceleration of the semiconductor design/production cycle to speed up the go-to-market schedule, while at the same time need to balance rapid development with long-term reliability. Our approach to that conundrum is to use well-known formulas to help estimate the affect of applied stresses including temperature, electric field, voltage and current density. We apply a form of the Arrhenius equation to describe exponential dependence:....read more....

Watch>>>>A Day With Advanced Energy
Advanced Energy shapes and transforms how power is used, delivered, and managed by some of the world's leading semiconductor and industrial manufacturers.
We design and manufacture highly-engineered precision power, measurement, and control solutions for mission-critical applications and processes. Our power solutions enable innovation in complex semiconductor and thin film plasma processes, high and low voltage applications, and temperature-critical environments. From the multiple screens you use daily, to life-saving medical equipment and techniques, our products and solutions enable their development and advancement.

With deep applications know-how and responsive service and support, we build collaborative customer partnerships. Our solutions anticipate evolving industry developments, propel growth, and power the future of technology.