The HV Rack configurable power system
Featured Product from Advanced Energy Industries, Inc.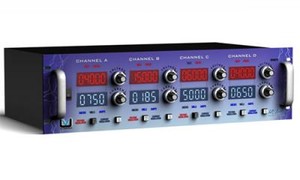 HV Rack series data pack
HV Rack Configurable Series
High Voltage Rack Mount Power System
The HV Rack configurable power system is a fully featured, configurable chassis, enabling end users to select and to specify the UltraVolt high-voltage power supply (HVPS) operating in each channel from our catalog of more than 600 models. This combination provides accurate control and measurement of high the voltage power supply and HV system performance.
For instructions on how to operate the HV Rack Configurable Series power system, download the HV Rack Configurable instruction manual. You can also download the manual for the USB Interface Option. You can also review the HV Rack Configurable standard, remote-control-interface connections
Features:
1 to 4 configurable high voltage output channels
4 to 1000 W per channel, up to 1000 W total
Independent control and monitoring of each channel
Voltage and current meters for each channel
Constant current / Constant voltage auto-crossover
Pre-set before and during bias capability
PLC analog/digital remote operation capability
We Power Innovation
Advanced Energy has devoted more than three decades to perfecting power—enabling design breakthroughs and driving growth for leading semiconductor and industrial customers. Our precision power and control technologies, along with our applications know-how, inspire close partnerships and perpetual innovation in thin-film and industrial manufacturing.
Founded in 1981, Advanced Energy has built a diversified and global business, delivering advanced power and control technologies to customers across a broad range of industries. The AE team, deployed throughout North America, Europe, and Asia, provides technical expertise and responsive and agile power solutions for thin-film and industrial manufacturing.
REFERENCE LIBRARY
Whether you are looking for help in preliminary decision-making or information support for your AE products, we have the right solutions for you. Browse our reference library for valuable insights and materials.