Connectors Meet Aerospace Application Challenges
Featured Product from Advanced Interconnections Corp.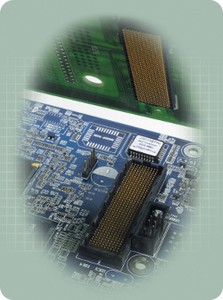 B2B® High Density SMT Connectors from Advanced are designed for long-life applications and robust handling. Superior quality is designed-in from our screw-machined terminals with multi-finger contacts to our heavy-duty, shrouded design which provides positive polarization to aid in blind mating applications. Low stack heights, high I/O density (over 400 contacts per square inch) and compact insulator conserve valuable PC board space. More information...
Typlical Applications
Telecom switches
Servers
Processors
Medical equipment
Aerospace
Military defense systems
Features
High density .050" (1.27mm) pitch - over 400 contacts per square inch.
Robust screw-machined terminals with multi-finger contacts can withstand the demands of blind mating and rigorous mating/unmating cycles.
Precision molded in high temperature LCP with integral polarization keying features to prevent 180° out-of-orientation mismating.
At 3 amps per pin, more contacts can be assigned to data/signal transfer (fewer pins needed to handle power and ground).
Guide box design facilitates alignment of male pin into female receptacle while protecting pins from damage during board mating.
Industry standard footprints in four mated heights (Standard stack heights: 6.00mm, 8.00mm, 12.70mm and 19.05mm).
RoHS Compliant models available featuring new Sn/Ag/Cu solder ball terminals.
Customized configurations available.

Quick Links for our B2B® SMT Connectors:
About Advanced Interconnections:
Advanced Interconnections designs and manufactures customized interconnect solutions for semiconductor development and high reliability electronic applications including medical, military, automotive, and telecommunications. IC sockets, package conversion adapters, and board to board connectors feature screw-machined terminals for field-proven performance and durability. From prototype to production volumes, innovative designs are produced to customer-specific requirements in our fully integrated manufacturing facility in the USA.
Links to our full product line: