Customized Board to Board Connectors
Featured Product from Advanced Interconnections Corp.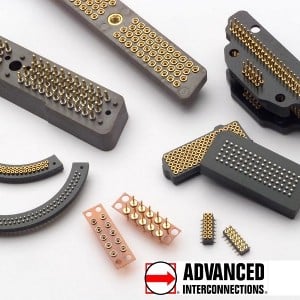 Our unique Peel-A-Way® Carriers and precision drilled FR-4 insulators can be designed in a wide variety of shapes and sizes without expensive set-up or tooling costs. Designs can be transitioned to molded insulators as production volumes ramp-up. Advanced® connectors, featuring screw-machined terminals, are preferred when reliability and long-term performance are mandated.
Square, rectangular, circular, and odd shapes
Select from our standard screw-machined terminals or let us design one to meet your requirements
In-house CNC machining enables fast turn-around on small volumes of pins for prototypes - not possible with stamped-and-formed designs
Variety of insulator materials and stack heights available; typical range from .045" (1.14mm) up to 1.0" (25.4mm)
We specialize in polarized/keyed designs for blind-mating with shrouded insulators to protect pins and aid in alignment
Contact one of our Product Engineers to get started
From 0.50mm to 1.27mm pitch, our Board to Board Connectors are a durable, cost-effective solution for your PC board stacking applications. More information...
About Advanced Interconnections:
Advanced Interconnections designs and manufactures customized interconnect solutions for semiconductor development and high-reliability electronic applications including medical, military, automotive, and telecommunications. IC sockets, package conversion adapters, and board to board connectors feature screw-machined terminals for field-proven performance and durability. From prototype to production volumes, innovative designs are produced to customer-specific requirements in our fully integrated manufacturing facility in the USA.