Customized IC Adapter and Interposer Solutions
Featured Product from Advanced Interconnections Corp.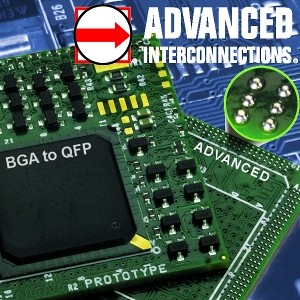 Advanced's proprietary technology utilizes our field-proven solder ball contact system to replace traditional QFP leads. The result is a lower cost, more robust interconnect solution.
A number of solder spheres, depending on solder volume requirements, are attached to individual pads on the custom designed Adapter or Interposer.
This unique process creates one large solder fillet on the QFP pad and multiple connections to the Adapter for redundancy.
Other components such as resistors, capacitors, etc. can be added to the top of the Adapter.
Device enhancements and pin-out corrections can be easily accommodated.
Solder spheres available in traditional Tin/Lead or lead-free Sn/Ag/Cu.
Outside dimensions are as small as the original device package plus 0.50mm.
Adapters are available as individual components or panelized.
Standard tray pack or optional tape and reel packaging is available.
About Advanced Interconnections
Advanced Interconnections designs and manufactures customized interconnect solutions for semiconductor development and high reliability electronic applications including medical, military, automotive, and telecommunications. IC sockets, package conversion adapters, and board to board connectors feature screw-machined terminals for field-proven performance and durability. From prototype to production volumes, innovative designs are produced to customer-specific requirements in our fully integrated manufacturing facility in the USA.