Interposers: Package Conversion & Lead-free Issues
Featured Product from Advanced Interconnections Corp.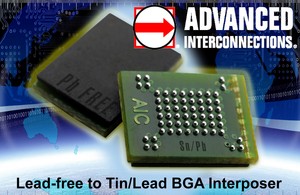 BGA Interposers from Advanced Interconnections are a cost-effective method for converting lead-free BGA device packages for use on boards processed with lower temperature, Tin/Lead solder profiles. Designs for package conversion are also available. More information...
Advanced's turn-key solution consists of lead-free BGA device attach to an Interposer adapter board in a high temperature reflow process, followed by mounting of eutectic (63/37) Tin/Lead solder balls on the bottom of the Interposer. The compact Interposer assembly is shipped ready for use on existing PC boards, eliminating the need to change Tin/Lead solder profiles or subject other components to higher processing temperatures.
Features:
Reduces costs associated with device package transition or obsolescence
Lead-free device attach service provided
Industry-proven solder ball terminal design provides the high reliability required in medical, military, telecom, and automotive applications
High temperature FR-4 adapter board closely matches original package size
Same footprint as BGA device (currently available in 0.80, 1.00, and 1.27mm pitch)
Designed to customer requirements
Tape and Reel packaging available
Designs for package conversion are also available
Quick Links for our BGA Interposer Products:
About Advanced Interconnections:
Advanced Interconnections designs and manufactures customized interconnect solutions for semiconductor development and high reliability electronic applications including medical, military, automotive, and telecommunications. Our IC sockets, package conversion adapters, and board to board connectors feature screw-machined terminals for field-proven performance and durability. From prototype to production volumes, innovative designs are produced to customer-specific requirements in our fully integrated manufacturing facility in the USA.