SOIC to DIP Adapters - Lead Free
Featured Product from Advanced Interconnections Corp.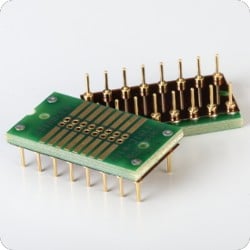 Rectangular Type Adapters for .050" (1.27mm) Pitch SOIC devices. Standard and lead-free designs featuring screw-machined terminals. Enables easy field replacement or upgrade of SOIC devices. More information...
Quick Links for our SOIC to DIP Adapter Products:
Features:
Adapter allows present Gull Wing devices to be solderable or socketable in a thru-hole application
Pin spacing allows space for conductor runs on PCB
Saves space (X, Y, & Z) when used with Advanced sockets
Radius ends of adapter pins to improve socketing
Allows testing with standard test clips
Molded and Peel-A-Way® DIP Mating Sockets are available
About Advanced Interconnections:
Advanced Interconnections designs and manufactures customized interconnect solutions for semiconductor development and high reliability electronic applications including medical, military, automotive, and telecommunications. IC sockets, package conversion adapters, and board to board connectors feature screw-machined terminals for field-proven performance and durability. From prototype to production volumes, innovative designs are produced to customer-specific requirements in our fully integrated manufacturing facility in the USA.