Custom Spherical Lenses
Featured Product from Advanced Optics, Inc.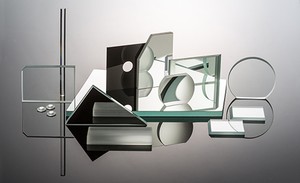 Custom Optical Components
In addition to our in-stock optical mirrors and optical windows, Advanced Optics provides custom fabrication and free engineering services. Our capabilities allow us to:
Drill holes;
Produce bevelled substrates;
Fabricate custom sizes and shapes;
Provide coated filters or filter glass;
Manufacture polished concave and convex lenses;
Design and supply custom optical coatings designed to meet your exact requirements.
Advanced Optics, Inc. has been manufacturing high quality optical components for over 40 years. Our experience allows us to provide the quality craftsmanship that has made us a leader in custom, precision and commercial optics. Through the years we have grown to distribute our products worldwide. We have the expertise to help you with prototype work and the resources to fulfill production requirements. However, we are still committed to the highest level of customer service, engineering and manufacturing quality and to delivering competitive pricing with on time delivery. At Advanced Optics, traditional values like customer satisfaction and personal service are still of the utmost importance.Applications
Our product line consists of precision and commercial grade optical mirrors and windows as well as single and double sided optical flats. All are excellent performers when it comes to aerospace, military and commercial avionics, medical instrumentation, academics and research, and industrial applications. Our skilled staff takes pride in the care and attention to detail of each optic we produce.