Automatic Tabletop Bagger/Printer
Featured Product from Advanced Poly-Packaging, Inc.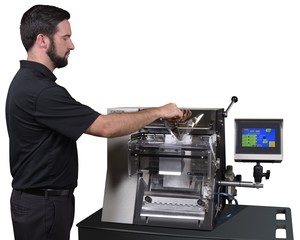 The T-375 allows you to save and recall jobs, so you can quickly switch from one application to another. The T-375 design was initiated when customers asked for a machine that offers the highest degree of labeling accuracy without losing the automation that brings efficiency to any packaging operation.
The T-375 incorporates a thermal transfer printer for "next-bag-out" printing. This patented feature allows for printing, just prior to loading which guarantees accurate labeling. You can now package quantities of just one part number!
Four color screen with pop-up windows
Diagnostic and troubleshooting screens
Preset and totalizing bag counter
Automatic "paced" operation with fill time delay timer
Universal, adjustable parts chute
Adjustable support shelf
Blower with flow controls
One year limited parts warranty
Contact Advanced Poly-Packaging for a product evaluation to determine if the T-375 is the right bagger for your application.