Horizontal Bagging at its Finest!
Featured Product from Advanced Poly-Packaging, Inc.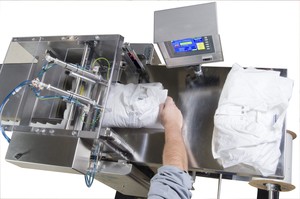 The best configuration is the one that's simple to operate, saves manpower, poses less risk of lost/broken product and saves money! Those qualities are exactly what we had in mind when updating the T-1000H Advanced Poly-Bagger.
The operator can either manually push the product into the open bag or allow our conveyor to do it automatically. The bag automatically seals, then conveys the finished bagged product to a container for shipping.
The T-1000H has all the features of the standard T-1000 that make it fast, reliable, versatile and simple to use!
This machine is also currently being used by our customers to bag towels and sheets, gasket kids, large gaskets, filters, manuals, kits with instructions, coils of rope or cable, bread and other baked goods.