Net-Weigh & Counting Scale - US-5500
Featured Product from Advanced Poly-Packaging, Inc.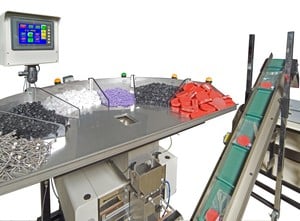 The US-5500 features a system of lights (one for each partition) to signal operators when to load each component into the scale hopper.
Green LED lights indicate which part to load
LED switches from bin to bin as piece quantity is met
Completed kits feed automatically into a poly bag that gets sealed
The scale is perfectly integrated to the T-1000 Advanced Poly-Bagger™ and offers a barcode reader for instant job recalls, saves or queries. Job recipes can also be created or modified using Microsoft Excel.
Accuracy: up to +/- .001 lbs.
Speed: up to 30 weights per minute
Scale Opening: 3.75" W x 6.25" D
Load Height: 36" - 46"
Load Capacity: up to 5 lbs. standard