Towel Inspection and Packaging System
Featured Product from Advanced Poly-Packaging, Inc.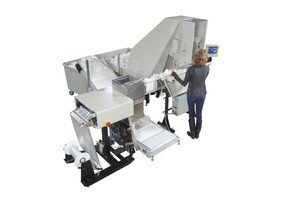 The ST-1000 offers several distinct advantages over competitive brands:
Fast – expect to bag 8,500 shop towels or 6,500 pieces per hour (but some of our customers report bagging 11,000 towels per hour)
Minimal Effort – Operator only picks up imperfections; user-friendly machine interface; floor level loading by sling, life table or by hand transfer from a cart
Increased Safety – No hand feeding eliminates repetitive motion injuries; floor level sitting or standing operation
Improved Quality – Operator focuses on inspection, not feeding the next towel
Flexible – Compact system that can be operated in a number of configurations to fit the space available
Bulk product is placed in a large floor hopper, where a pick conveyor lifts products indvidually to a horizontal inspection conveyor where they are either weighed or counted and dropped into an open bag that is sealed and conveyed to a container for shipping. The entire system is operated by a single person and controlled by touchscreen interface on the T-1000 Advanced Poly-Bagger™.