US-6000 Check-Weigh System
Featured Product from Advanced Poly-Packaging, Inc.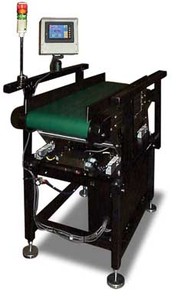 The US-6000 Check-Weigh System is designed to make sure your filled, sealed bag meets the specified weight that you choose. This exit system is essential for applications where accurate post-seal weight is critical.
The US-6000 Check-Weigh Conveyor Scale offers exceptional accuracy and reliability for continuous-feeding applications. Check-weigh bags, cartons, and finished goods to detect
and discharge out of range product; configuable for your range of products.
Touch screen controlled with pop-up windows, weigh history, job saves, accuracy charts and auto tare and auto zeroing functions.
Standard Features:
Full Color Touch Screen
Over/Under/Accept Display
96 Job Saves
Accuracy Chart and History
6" or 12" wide conveyor (varies based on carton size)
6' infeed conveyor (varies based on quantity of cartons in que)
DC motors with adjustable speed controls
Painted tubular steel framework
Options: Stack Light, Exit Conveyor, Discharge Pusher/Blower