Socket Wrench Torque Sensors!
Product Announcement from Advanced Torque Products, LLC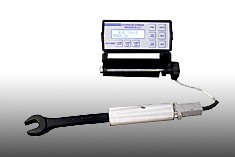 Advanced Torque's Test & Measurement Systems (TBE) Socket Wrench Torque Sensors are available in two models:
Slip-Ring Type Rotating Sensor (Model 12346)
Reaction Type (Model 17430)
Both sensors utilize strain gage technology and are adaptable to all strain gage type indicators.
Sensors operate in both directions: CW and CCW. Units are supplied with a Certificate of Calibration traceable to N.I.S.T.
Rotary transducer can be configured with an air or electric drive for auto shutoff at desired torque.
---