Advantage M1D-5A Portable Chiller
Product Announcement from Advantage Engineering, Inc.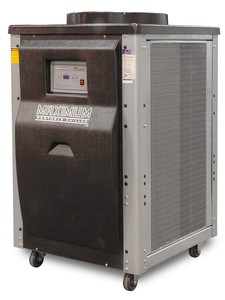 Advantage Engineering's 5-ton air-cooled water chiller provides 5 tons (60,000 Btu/hr) of cooling. The chiller is equipped with an integral water reservoir and pump. Simply fill the chiller with water, bring power to the unit and it is ready to provide many years of indutrial process cooling.
The unit is ruggedly built for the industrial market and includeds the Copeland Digital Scroll compressor which is controlled by Advanatge's M1D microprocessor control instrument using a simple yet effective method to modulate chiller capacity from 20-100 % giving unparallelled energy efficient performance in the modulation field.
The scroll compressor uses a simple concept first patented in 1905 to provide a smooth compression process with fewer moving parts than traditional reciprocating compressors.
The Digital scroll compressor improves on the basic scroll design by having axial & radial compliance and allowing axial separation of the scrolls to modulate the compression cycle reducing the chiller capacity and energy consumption.
The internal 2 horsepower pump and 25 gallon water reservoir provide coolant flow to many applications.
Advantage is a US manufacturer of industrial process cooling systems including chillers, cooling towers, temperature control units and pumping systems.
Learn more about Advantage Engineering's Model M1D-5A Chiller and Digital Scroll Compressors
---