Advantech Launches WebAccess/SCADA 8.3
Featured Product from Advantech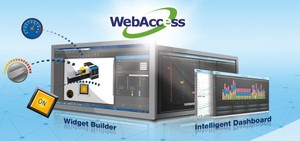 Advantech's IIoT iAutomation Group announces the launch of WebAccess/SCADA 8.3 with improved performance and user satisfaction with the introduction of the new WebAccess Dashboard 2.0, a new mobile app, and other added features including improved MQTT protocol and driver support.
The new WebAccess/Dashboard 2.0 allows users to access external data via a third-party database or web service, thus expanding their data resources. It is compatible with standard SQL database management systems (e.g., SQL Server, My SQL, and Oracle) and has web service interface for data acquisition from other software systems. It uses web services based on Node.js® runtime as the underlying data transport layer for real-time data transfer. Additionally, the original system functions have been enhanced and the new version allows users to customize widgets and dashboard. The new version supports multiple DSNs, giving access to multiple databases and data is now divided into monthly tables to improve system performance for data access, report generation, and data queries.
The new mobile app provides an innovation interface for visualizing usage information. With Node.js and supports iOS9 and Android 4.4 and above, data can be transferred to phones in real time. The app can connect to a WebAccess server so that users can perform remote monitoring of control points and alarms while visualizing trends and communication statuses via the dashboard. Most importantly, the app supports notifications for mobile devices.
The new version also comes with a more user-friendly installation package and a soft license mechanism so that the software can be run on virtual machine systems. New drivers have also been added for popular PLCs (e.g., Keyence PLC driver enhancement, Mitsubishi FX5U FLC driver) and video management integration (e.g., Dahua DH-SD-6A9226F-HNI video driver and Hikvision video driver).
For more information about this or other Advantech products and services, contact your local sales support team or visit the Advantech website at www.advantech.com.