Advantech's EtherIO Technology
Featured Product from Advantech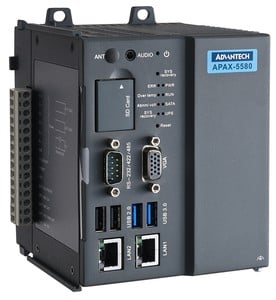 This EtherIO technology provides a cost-effective alternative to using field bus-based solutions for real-time data collection designed to enable real-time sensing for machine automation, predictive maintenance, equipment monitoring and optimization, production traceability, rapid quality feedback, and factory environment monitoring applications.
EtherIO, which not only transforms standard LAN ports into dedicated real-time I/O ports, but also consumes less than 10% of CPU processing resources, allowing users to leverage the computing power of existing systems for real-time I/O. In other words, EtherIO provides an immediate solution that does not require additional expensive infrastructure and can be flexibly integrated with legacy equipment and systems.
EtherIO offers a real-time performance of one millisecond for distributed/remote system topologies and can support up to 768 I/O points. Although most standard Ethernet-based fieldbuses support real-time performance, these technologies are not only expensive, but also far exceed the requirements for real-time data collection. Moreover, EtherIO does not require specific hardware for real-time performance. Users only need to download the EtherIO software driver provided on the Advantech website free of charge to use existing Ethernet ports for real-time data acquisition.
EtherIO provides a comprehensive sensing solution that enables not only data acquisition from sensors, but also serial communication with legacy devices, including programmable logic controllers (PLC), meters, and equipment. In the past, retrieving serial data from device servers necessitated complex programming. By combining these functionalities into a single interface, EtherIO drastically streamlines integration.
Another significant feature of EtherIO is its openness. This architecture software uses very simple APIs and supports two programming environments for IT and OT users, ensuring convenient and flexible implementation. With the inclusion of EtherIO technology, Advantech's embedded platforms provide immediate and cost-effective real-time data collection solutions for diverse IoT environments and applications.
For more information about this or other Advantech products and services, contact your local sales support team or visit the Advantech website at www.advantech.com.