DDR4 DIMMs Allow More Efficient Server Designs
Featured Product from Advantech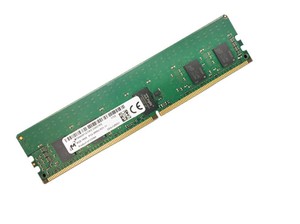 Server memory can be confused with the amount of storage space available on a device, which is a common misconception. Increasing the storage capacity of a server does not improve overall performance, but simply allows for more data to be saved. Instead, server memory allows for a server to write and read information being accessed from storage by the device. The more memory available, the more actions can be read, written, and performed by a server.

Server or storage applications are designed to compute and store large amounts of data. It has been proven that using DRAM instead of SSD or HDD to build new generation servers provide much better performance, mostly related to the better latency and bandwidth offered by DRAM. To build these efficient systems, you just be able to aggregate large amounts of DDR4 DRAM and there are various options available, like LRDIMM, RDIMM, or 3DS architectures. At the DDR4 interface level, new equalization techniques will help support higher speeds. Larger DRAM capacities multiplied by higher bandwidth is a winning recipe for higher performance computers and storage systems.

Advantech brings in Micron & ATP server product lines along with validation for the Intel® Purley Platform. This platform uses Intel's new Xeon scalable processor family which was just recently released. Server premier DDR4-2666MHz registered DIMMs are available in 8GB, 16GB and 32GB kits and are focused on compatibility with the latest server architecture. This provides a significant boost in performance for today's memory intensive server applications.
Advantech's Micron & ATP series include:
Micron Series

96D4-8G2666ER-MI / Micron 8G DDR4 2666 288Pin 1GX8 Registered 1.2V

96D4-16G2666ER-MI / Micron 16G DDR4 2666 288Pin 1GX8 Registered 1.2V

96D4-32G2666ER-MI / Micron 32G DDR4 2666 288Pin 2GX4 Registered 1.2V
ATP Series

96D4-8G2666ER-AT / 8GB DDR4 2666 288Pin 1GX8 Registered ECC 1.2V Samsung

96D4-16G2666ER-AT / 16GB DDR4 2666 288Pin 2GX4 Registered ECC 1.2V Samsung

96D4-32G2666ER-AT / 32GB DDR4 2666 288Pin 2GX4 Registered ECC 1.2V Samsung
For more information about this or other Advantech products and services, contact your local sales support team or visit the Advantech website at www.advantech.com.
Advantech Corporation, IIoT iAutomation Group – With the theme of Intelligent Automation, Seamless Integration, the IIot iAutomation Group of Advantech Corporation is a pioneer in intelligent Automation technology. By combining connectivity, flexibility, ruggedness and being at the leading-edge of Internet of Things technology, IAG offers product offerings from Intelligent HMI platforms, Industrial Ethernet, Wireless Communication, Automation Controllers, Automation Software, Embedded Automation Computers, Distributed I/O Modules, Wireless Sensor Network Solutions, Plug-in I/O, and Industrial Communication solutions for a wide array of industries. With more than 30 years of experience in providing a full range of products to different vertical markets, the Industrial Automation Group is proving to be a global leading Automation Product and Services provider. US operations for the Industrial Automation Group are based in Cincinnati, OH (888-576-9668). Advantech Corporation, Industrial Automation Group, 11380 Reed Hartman Highway, Cincinnati, OH 45241. Website: www.advantech.com/ea. Email: eAinfo@advantech.com.