Rackmount GPU Servers
Featured Product from Advantech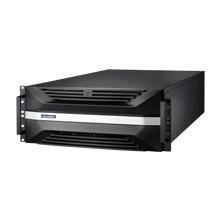 Advantech's IIoT iAutomation Group has launched a broad selection of rackmount GPU Servers from 1U to 4U. The SKY-6000 GPU server series are powered by Intel® Xeon® scalable processors and each of these highly scalable GPU-optimized servers support up to five NVIDIA® Tesla® P4 GPUs. IPMI management functions and smart fan control ensure better temperature control and thermal management environments. Every GPU pair includes one high-speed PCIe slot for highly parallel applications like artificial intelligence (AI), deep learning, self-driving cars, smart city applications, health care, high performance computing, virtual reality, and much more.
AI Deep Learning GPU Solution
With support for up to five pcs of half-length half-height (HHHL) GPU cards or one full-height full-length (FHFL) double deck card, plus one full-height half-length (FHHL) GPU card, the SKY-6100 series are designed for NVidia Tesla P4 HHHL GPU cards, making it the best choice for deep learning applications.
IPMI Server Management
With IPMI 2.0 support, the SKY-6000 series allows users to monitor, manage, and control servers remotely and receive alerts if any sensors detect device or component faults. In addition, event logs record important information about the server which can be controlled remotely using the IPMI KVM.
Smart Fan Control
The optimized thermal design separates the CPU and GPU fan zones, making sure the GPU card is not preheated or thermally affected by any other heat source. Also, with the smart fan control mechanism, fan speeds are controlled based on different CPU and GPU workloads and ambient temperature. This feature lowers the acoustic noise of GPUs that have heavy loading but not CPUs.
Advantech's SKY-6000 server series are available for order now. For more information about this or other Advantech products and services, contact your local sales support team or visit the Advantech website at www.advantech.com.
Advantech Corporation, IIoT iAutomation Group – With the theme of Intelligent Automation, Seamless Integration, the IIot iAutomation Group of Advantech Corporation is a pioneer in intelligent Automation technology. By combining connectivity, flexibility, ruggedness and being at the leading-edge of Internet of Things technology, IAG offers product offerings from Intelligent HMI platforms, Industrial Ethernet, Wireless Communication, Automation Controllers, Automation Software, Embedded Automation Computers, Distributed I/O Modules, Wireless Sensor Network Solutions, Plug-in I/O, and Industrial Communication solutions for a wide array of industries. With more than 30 years of experience in providing a full range of products to different vertical markets, the Industrial Automation Group is proving to be a global leading Automation Product and Services provider. US operations for the Industrial Automation Group are based in Cincinnati, OH (888-576-9668). Advantech Corporation, Industrial Automation Group, 11380 Reed Hartman Highway, Cincinnati, OH 45241. Website: www.advantech.com/ea. Email: eAinfo@advantech.com.