Stationery/Colored Bands
Featured Product from Aero Rubber Company, Inc.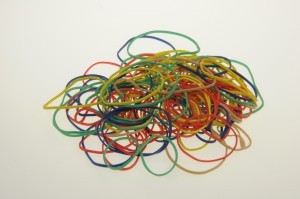 Why are they called Stationery Bands?
Stationery Rubber Bands got their name from their use, i.e. to bind or bundle stacks or items of stationery-like envelopes together.The following are the specific range of sizes Aero offers.
Aero Rubber has a $200 Minimum Order Requirement. We offer quantity price breaks for bulk quantity orders
Why do so many companies rely on Aero Rubber for their Rubber Band Products?
We will help you determine the best product for your project, from size and thickness, while taking into account your budget and time constraints. With our diverse inventory and friendly, helpful rubber sales engineers, Aero Rubber is able to sharply reduce lead and delivery times for stationery bands.
A Wide Variety of Rubber Stationery Bands for a Multitude of Uses
Whether you are restocking your supply shelves for the upcoming year or simply have a need for more Stationery Rubber Bands at your company, you've come to the right place. At Aero Rubber, our Rubber Band Sales Engineers have an average of 15 years of experience in the elastomers (rubber) industry and our ongoing success speaks volumes about their proficiency.
Remember at Aero Rubber:
WE TAKE RUBBER BANDS SERIOUSLY!
Call (800) 662-1009 now and ask to speak with one of Aero's Rubber Band Division Sales Engineers!
.