Custom Printed Bands
Service Detail from Aero Rubber Company, Inc.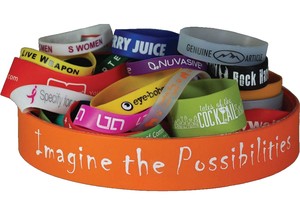 Aero Rubber's Printed Promotional bands separate themselves through their quality and product life of the material. Our bands can be made from Silicone or Synthetic Polyisoprene rubber. Either provides a fantastic way to build awareness of your product, brand or cause. Company logos, slogans or mottos can be included on these bands, which will serve as constant reinforcement of your message.
Our Aero PromoStretch® Silicone bands are specially formulated to stretch almost as much as standard rubber bands. They are perfect for brand recognition and advertising purposes and can also be used for identification. Custom printed bands are an ideal way to get the word out. No matter what else they may be doing, PromoStretch® Bands are always advertising for you or your client!
Learn More and View some examples
Aero has also supplied thousands of businesses and other organizations with Silicone Wristbands. We have many options available for order so that you can design your wristbands to be as unique as the cause or event you wish to promote.
Learn More and View some examples
More colors, More Options
At your request, Aero Rubber will produce custom colors for your requirements. We can also:
Print 360 degrees around the outside of the band
Have multiple colors on the same band
Offer translucent colors as well as translucent with a hue (PromoStretch® only)
Print on the inside of the band as well as the outside surface (PromoStretch® only)
Free Consultation
Call Aero at 1-800-662-1009 today to speak with one of our sales engineers so we can guide you in the best size, color and printing to meet your needs.