Reduce Your Labor & Pallet Wrap Costs
Featured Product from Aero Rubber Company, Inc.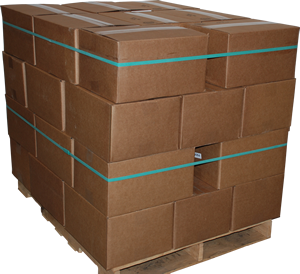 If like so many companies today, you are always looking for new ways to reduce your carbon footprint while improving the efficiency of your warehouse operations in order to reduce costs, you've come to the right place!
We are your one-stop source for reusable alternatives to conventional pallet plastic wraps.
Aero's Pallet Band products are colored green to signify the environmental friendliness of our natural rubber product. Why not make it obvious that your company has taken yet another step towards environmental responsibility!!
Typically you will find that only one or two Pallet Bands are needed to stabilize a pallet load. This equates to an enormous savings in time and money. It takes more time and effort to work with single-use plastic wraps to secure a pallet, than it does to work with Aero's Pallet Bands.In addition, unlike pallet plastic wraps, Pallet Bands allow water from sprinkler systems to get through to boxes and/or product and get the job done during a fire. At the same time, Pallet Bands don't trap in unwanted moisture, unlike pallet plastic wraps.
Benefits Include:
Less than 1 minute for 1 person to apply
One Pallet Band is enough to stabilize lighter Warehouse loads
Multiple Pallet Bands can be used to stabilize heavier or irregular loads
Pallet Bands are Reusable, over and over again
No costly additional packaging equipment is required (turn tables etc…)
Made from Natural Rubber, Pallet Bands are recyclable
Pallet Bands work Great with Corner Boards
Click here to learn more on pallet band sizes.