Rubber Gaskets
Featured Product from Aero Rubber Company, Inc.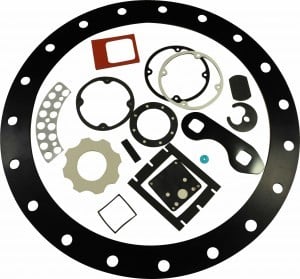 If you have a need for Rubber Gaskets, Rubber Seals or other Rubber Parts, Aero has the facilities, equipment and personnel to manufacture a variety including, but not limited to:
Gaskets - Extruded, Molded, Fabricated
Washers - Molded, Fabricated, Lathe Cut
Seals - Extruded, Molded, Fabricated
Stripping - Fabricated
Whether you're looking for a simple gasket solution in a sea of variables or just the right material to stand up to extreme temperatures, chemical attack, exposure to ozone or ultraviolet degradation, Aero can help you. When performance, reliability and cost are all equally important, your Aero sales engineer will guide you to the best option.
Aero manufactures your desired part from your design and from the elastomer you specify. Many of our custom rubber fabricated parts ship within 1-2 weeks.