Rubber Matting & Vinyl Matting
Featured Product from Aero Rubber Company, Inc.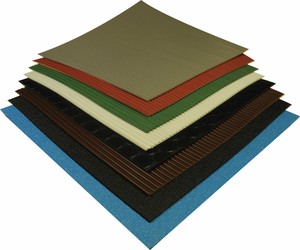 It's important to get the correct type of rubber matting for your particular industry and application. You may need matting to prevent static buildup in your manufacturing facility, or are in the market for some special food service matting to support your new business. Whatever your rubber matting requirements, the team at Aero Rubber has you "covered".
Aero Rubber Company offers a wide variety of standard and custom rubber matting. Matting can be conductive or non-conductive, depending on your needs. The following is a list of rubber matting types that we have to offer at Aero Rubber. If you don't see what you're looking for here, please call or email us regarding details of your project.
Industrial Matting
Switchboard Matting
Anti-Static Matting
Food Service Matting
Safety Matting
Shelf-Liner
Runners
Specialty Matting
Custom Matting
Anti-Fatigue Matting
Large Inventory of Industrial Matting
We have the resources and capabilities to satisfy all of your requirements. At Aero Rubber, we stock a large inventory of industrial matting that can be cut to your specifications. In addition, we are proud to offer:
A wide range of commercial and specification grade rubber and vinyl materials
Solid (dense) and sponge materials
Pressure Sensitive Adhesive (PSA) Applied, as requested
Full fabrication capabilities to cut your mat to the pattern you specify
We offer many surface pattern options to choose from, including:
Diamond Plate Pattern
Pebble Surface Pattern
Corrugated/Ribbed Patterns
Round Ribbed Patterns
And many others
When rubber matting is an integral part of your company's operations, you will want to go with an established rubber manufacturer who understands your particular needs and specifications. We've been supplying rubber matting products since 1973. Our knowledge and experience make us industry leaders, proven by our many repeat customers and referral business.