Aerotech's A3200 Automation Motion Server
Featured Product from Aerotech, Inc.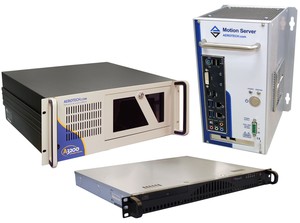 Family of Industrial PCs Preconfigured with Aerotech's A3200 Motion Controller
Intel i5 and i7 processors
Rack or panel-mount versions
DVI and HDMI video outputs
Optional EtherCAT™ or PROFINET interface
Real time, high-speed TCP stack ideal for smart cameras and Ethernet-based I/O
Solid-state disk drive for fast startup and robust operation
Operating temperature range of 5 to 50°C
All Automation Motion Server products are shipped with a fully tested and verified installation of Aerotech's A3200 motion controller operating in a 64-bit Windows® operating system. The Motion Server is ready to work right out of the box — apply power, connect the drives, and start developing. You'll waste no more time on PC selection, operating system activation/configuration, controller installation, and managing deliveries from multiple vendors. Get started on integrating your value-added process as soon as you open the box.
The Automation Motion Server is available in panel-mount and rack-mount versions. The panel-mount version is designed for integration into a control cabinet. The slotted "key-hole" mounting pattern makes for easy insertion and removal from the cabinet, and a liquid cooled heat-sink and solid-state disk-drive ensure reliable operation up to 50°C. The rack-mounted version is available in 1U and 4U heights with rear-accessible internal PCI expansion capability.
Communicate with EtherCAT or PROFINET fieldbus I/O with an optional universal dual-port Ethernet adapter. A real-time enabled Ethernet port can also be installed to communicate with intelligent cameras and other peripherals through Modbus®/TCP.
For further information, please contact Steve McLane at 412-967-6854 (direct), or via e-mail at smclane@aerotech.com. In addition, more information is available at: http://www.aerotech.com/product-catalog/drives-and-drive-racks/a3200-automation-motion-server.aspx