High Volume Manufacturing: Aerotech
Featured Product from Aerotech, Inc.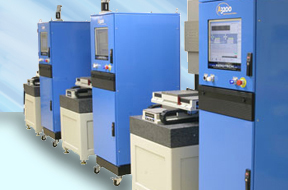 Aerotech is a key supplier to major automation programs for end-users, system integrators and OEMs worldwide.
Over 12,000 square meters (130,000 ft2) of manufacturing space features climate- and particulate-controlled environments utilized for cleanroom and vacuum system fabrication and to support advanced system testing. Since 1995, Aerotech has been ISO 9001 certified, encompassing our entire operation through manufacturing.
An advanced ERP system allows us to support a variety of customer production models including Kanban, VMI and Demand-Flow. This capability enables us to provide a rapid and flexible response in support of our customers' production requirements.
To satisfy our customers' needs for additional capabilities, we are in the process of expanding our Pittsburgh manufacturing facility from 12,000 square meters to 18,000 square meters. This addition will be on-line within the next few months and will meet the same, and in some cases exceed our current facility's specifications and capabilities.