Motor Run & General Purpose AC Capacitors
Product Announcement from Aerovox Corp.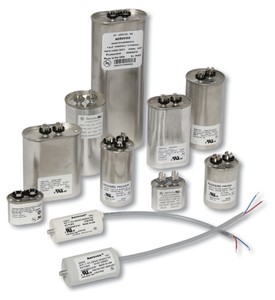 AC Film Capacitors for Motor Run, UPS and General Purpose Applications
Aerovox's line of SuperMet™-brand motor run and general purpose capacitors are constructed with metalized polypropylene film technology using the latest design techniques.
All SuperMet capacitors are built to UL 810 standards, and contain a proprietary pressure sensitive interrupter system. These capacitors are available in industry standard round and oval, oil-filled, metal can designs as well as a European styled aluminum or plastic can with a mounting stud on the bottom.
---