Magnet vs. air foil bearing
Featured Product from Aerzen USA Corp.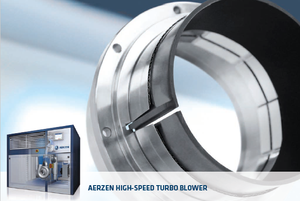 SIMPLE AND EFFECTIVE: AIR AS BEARING SYSTEM
Construction and functional principle of a turbo blower from AERZEN are simple and at the same time effective. As the air supply of modern wastewater treatment plants is clearly designed for maximum availability, high energy efficiency and long maintenance cycles, AERZEN uses for the demanding bearing system within turbo blowers neither oil nor other lubricants - but simply air.
Turbo blowers
AERZEN turbo blowers. Over the decades we have developed these packaged units to technical excellence. In doing so we have acquired expertise that sets standards throughout the world. This is reflected in improved energy efficiency, low life-cycle costs and specially developed core components. To sum it up: it can be seen in every detail of AERZEN's continuous flow machines.
Aerzen Rental Machines
There are many reasons you may need to call AERZEN Rental Division: not just for maintenance and repair, but also to cover unexpected demand. AERZEN Rental Division can provide you with rental units and accessories, as well as individual solutions for research and development, operative leasing and contracting.


Watch>>An overview of Aerzen and the company's capabilities.
About Aerzen USA
Aerzen USA is a wholly-owned division of the German manufacturer, Aerzener Maschinenfabrik GmbH, and has been a recognized world leader in the production of rotary positive displacement machines since 1868. Aerzen USA is based in Coatesville, PA. For more information, visit www.aerzenusa.com