Positive Displacement Blowers
Featured Product from Aerzen USA Corp.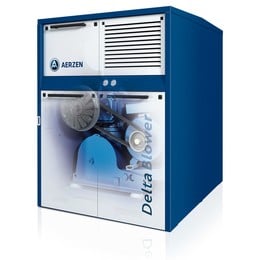 Positive Displacement Blowers
AERZEN offers a wide range of products in the field of compression technology, possibly the widest that you will find anywhere. The highly-developed machines are available in a wide range of designs, sizes and special models; for conveying air, oxygen, neutral, aggressive or toxic gases; with vertical or horizontal flow; in negative pressure, positive pressure or vacuum modes. They can be used anywhere in the world where gas needs to be conveyed and compressed, and anywhere where reliable availability, energy efficiency and oil-free supply are the decisive factors.
Watch>>An overview of Aerzen and the company's capabilities.
Watch>>>Aerzen Rental - Why Rent A Blower or Compressor?
Aerzen Rental Machines
The rental Service of AERZEN
There are many reasons you may need to call AERZEN Rental Division: not just for maintenance and repair, but also to cover unexpected demand. AERZEN Rental Division can provide you with rental units and accessories, as well as individual solutions for research and development, operative leasing and contracting.
SPECIALIZING IN TEMPORARY OIL-FREE BLOWER AND COMPRESSOR SOLUTIONS UNDER 50 PSIG
100% oil-free air solutions for a wide range of industry sectors.
Aerzen Rental provides best-in-class packages engineered for aggressive rental environments with on board VFDs, remote monitoring, and outdoor builds with sound attenuating enclosure as standard. From rental units for immediate deployment in the event of a production failure or shortfall, to longer term operational leasing and rent to own, Aerzen Rental is your expert partner.
More efficient alternative than using plant air compressors.
Our knowledge and experience assures yo of in-depth technical support and solutions that fits seamlessly with your process:
A complete solution:
The machine itself is just one aspect of a rental project - Aerzen Rental provides the professional expertise and full compliment of electrical and mechanical accessories needed for a successful project.
Why Rent?
Upgrade Project: Air is needed continuously while aging machines are removed or replaced
Rebuild: Air is needed continuously while a machine is taken out of service (proactively or reactively) for maintenance
Supplemental Needs: Changes in the process or seasonal needs require increased air-flows for a period of time that does not justify a capital expenditure
Capital Avoidance: Air is needed now but there is no budget for a capital expenditure
New Equipment Lead Time: Air is needed faster than new equipment can be purchased and installed
Applications
Wastewater treatment
Petro-chemical
Power station
Bulk materials
Food products
Cement
Paper mills
Proof of Concept
About Aerzen USA
Aerzen USA is a wholly-owned division of the German manufacturer, Aerzener Maschinenfabrik GmbH, and has been a recognized world leader in the production of rotary positive displacement machines since 1868. Aerzen USA is based in Coatesville, PA. For more information, visit www.aerzenusa.com