Process Gas Oil-Free Compressors
Featured Product from Aerzen USA Corp.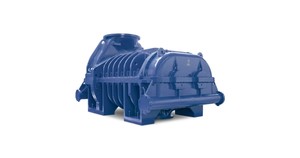 APPLICATIONS:
Chemical- and process technology
Control air systems
Industrial refrigeration plants
Evaporation plants
Mining industry
Iron and steel works
COMPONENT OF YOUR PROCESS EFFICIENCY: AERZEN PROCESS GAS COMPRESSORS
AERZEN process gas compressors are installed as single or multiple stage units in chemical, petrochemical, raw material and energy producing plants and in many other production centres of the processing industry all over the world.
The unit is ideally suited for dry compression of all gases, which occure in chemical and petrochemical industries. Within the compression chambers there is no metallic contact among both rotors as well as to the casing. Thanks to synchronising gears the rotors run without contact to each other. Therefore, the conveying chambers remain unlubricated and the conveyed medium will not be contaminated.
The maximum (1350 mm) and the minimum rotor length (155 mm) give an impression of the entire breadth of the offer. For the adjustment to the different process gases, rotors made of steel or special steel and casing of nodular cast iron, steel- or special steel casting can be applied.
Performance Measurement and Calculation of Standard Volume Flow
Aerzen Rental Machines
There are many reasons you may need to call AERZEN Rental Division: not just for maintenance and repair, but also to cover unexpected demand. AERZEN Rental Division can provide you with rental units and accessories, as well as individual solutions for research and development, operative leasing and contracting.
Watch>>>Aerzen Rental - Why Rent A Blower or Compressor?
Watch>>An overview of Aerzen and the company's capabilities.
About Aerzen USA
Aerzen USA is a wholly-owned division of the German manufacturer, Aerzener Maschinenfabrik GmbH, and has been a recognized world leader in the production of rotary positive displacement machines since 1868. Aerzen USA is based in Coatesville, PA. For more information, visit www.aerzenusa.com