Screw Compressors
Featured Product from Aerzen USA Corp.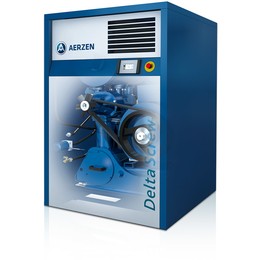 Screw Compressors
Unrivalled versatility. These two words describe in a nutshell exactly what makes AERZEN screw compressors so special: the biggest range of models, the highest number of possible modifications and the widest range of accessories. But these stages and packaged unit series have a lot more going for them, notably the development capability of the global market leader, who has been continuously working on innovations, optimisation and its completion of its successful compressors since 1943.
Freeing up potential.
For decades, leading packagers and industrial users have insisted upon AERZEN compressor stages and packaged units. Why? Because with their exceptional versatility these machines are the ideal solution for every application. Originally designed for compressing air, nitrogen and neutral gases, these all-round geniuses are also developing their strengths in use with special gases, in vacuum operation and in inlet pressure applications. Direct and belt-driven, dry running and classified oil-free to class 0 or with oil injection, with or without pre-inlet. Let's put it this way: AERZEN has the right compressor for every application.
Screw compressors are perforce twin-shaft rotating lobe machines. They work on the positive displacement principle with internal compression and are so-called compulsive conveyors. This applies for all screw compressors. However, what makes AERZEN screw compressors special is that we have made reliability, ease of maintenance, user-friendliness, flexibility and energy efficiency a matter of principle. The result is a range of unique design features. Take the efficiency coefficients for example, such as the AERZEN 3+4 VML profile or the 4+6 VM profile. Compared to standard compressors they save a considerable amount of energy. And what is the ultimate in compressor technology? It is AERZEN's new E-compressors. With an increase in efficiency of around 6% they free up even more valuable potential.
Watch>>An overview of Aerzen and the company's capabilities.
Watch>>>Aerzen Rental - Why Rent A Blower or Compressor?
Aerzen Rental Machines
The rental Service of AERZEN
There are many reasons you may need to call AERZEN Rental Division: not just for maintenance and repair, but also to cover unexpected demand. AERZEN Rental Division can provide you with rental units and accessories, as well as individual solutions for research and development, operative leasing and contracting.
SPECIALIZING IN TEMPORARY OIL-FREE BLOWER AND COMPRESSOR SOLUTIONS UNDER 50 PSIG
100% oil-free air solutions for a wide range of industry sectors.
Aerzen Rental provides best-in-class packages engineered for aggressive rental environments with on board VFDs, remote monitoring, and outdoor builds with sound attenuating enclosure as standard. From rental units for immediate deployment in the event of a production failure or shortfall, to longer term operational leasing and rent to own, Aerzen Rental is your expert partner.
More efficient alternative than using plant air compressors.
Our knowledge and experience assures yo of in-depth technical support and solutions that fits seamlessly with your process:
A complete solution:
The machine itself is just one aspect of a rental project - Aerzen Rental provides the professional expertise and full compliment of electrical and mechanical accessories needed for a successful project.
Why Rent?
Upgrade Project: Air is needed continuously while aging machines are removed or replaced
Rebuild: Air is needed continuously while a machine is taken out of service (proactively or reactively) for maintenance
Supplemental Needs: Changes in the process or seasonal needs require increased air-flows for a period of time that does not justify a capital expenditure
Capital Avoidance: Air is needed now but there is no budget for a capital expenditure
New Equipment Lead Time: Air is needed faster than new equipment can be purchased and installed
Applications
Wastewater treatment
Petro-chemical
Power station
Bulk materials
Food products
Cement
Paper mills
Proof of Concept
About Aerzen USA
Aerzen USA is a wholly-owned division of the German manufacturer, Aerzener Maschinenfabrik GmbH, and has been a recognized world leader in the production of rotary positive displacement machines since 1868. Aerzen USA is based in Coatesville, PA. For more information, visit www.aerzenusa.com