Large-Scale Natural Gas Generators
Featured Product from Aggreko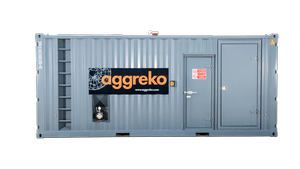 300 kW Natural Gas Generator
Rental Power Generation - Large-Scale Natural Gas Generators
Our 300 kW natural gas generators and services have been developed to meet your need for reliable and flexible power in the most cost-effective manner. We offer a number of portable natural gas generator rental options for all industries.
Features:
300 kW of power generation
Each natural gas generator is equipped with remote monitoring to aid in performance and reliability
Proven and time tested 'Lean Burn' gas engine technology
Ability to operate in extreme ambient temperatures
A single, fully-integrated advanced control system
Extended service intervals ensure high availability of equipment
24/7 Aggreko Remote Monitoring
Benefits
Low-emission natural gas generator rental options, proven to offer 40-45 percent savings compared to diesel.
Reduced carbon footprint
Low-exhaust gas emissions without using expensive after-treatment devices
Weather protected and sound attenuated package
Save-all containment base—prevents spillage of engine fluids
No special site preparation or foundations required
Proactive monitoring by Aggreko's Remote Operations Center (ROC) to ensure maximum uptime. Customer monitoring & notifications available through Aggreko's ARM app and portal.
power generation and distribution solution tailored to your needs
Industrial & Commercial Power Rental Generation, Generator Rentals and Distribution - Anytime, Anywhere
Aggreko North America's Rental Specialist® provides reliable, and cost-effective rental power through our wide range of generator rentals and rental electrical distribution. From small, transitory power at a site level to baseload-scale megawatt power for regional power grids, we keep the power on and your business moving forward.
Power Rental You Need, When You Need It
During the past 40 years, Aggreko has continued to custom-build generator rentals to meet the changing needs of your industry, including:
Diesel generators units to containerized power units
Natural gas generators, cost-effective and less impact on the environment
Low-maintenance, quiet generators for low-noise applications like movie sets
Quiet generators for onboard or dockside needs within the Shipping Industry
Towable, portable generators ideal for use in the Construction and Contracting Industries
New advances in spill containment prevents spillage of fuel and engine fluids
Industries and Services
For more than 50 years we've helped businesses around the world improve productivity, manage power demands and plan for emergencies.