Grid emulation could help save renewable projects
Featured Product from Aggreko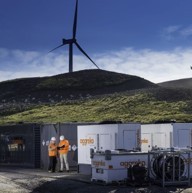 Turbines tested with temporary mini-grid
The challenge
Commission 122 turbines with no grid power
A wind farm in the USA wanted 122 turbines constructed and fully operational within four months to qualify for a tax credit – a very tight timeframe. And it was made even trickier by the fact that grid power wasn't scheduled for switch-on until later in the year.
To get these turbines commissioned in time for the tax credit, the wind farm needed a reliable source of backfeed power, and fast, so they called us in to help.
The solution
Shared expertise and a 3 MW mini grid
The temporary substation we designed was a team effort. We worked with load bank experts ComRent, the developer, the turbine manufacturer and the electrical engineer of record to hatch a plan that would meet the site's commissioning needs. That is, 400 kW and six hours of run time per turbine. All 122 of them.
We quickly installed a 3 MW temporary mini-grid complete with generators, load banks, circuit breakers, transformers, fuel tanks and more than 6,000 feet of electrical cable. And we had a specialist on-site throughout the entire commissioning process, for monitoring and maintenance.
Watch>>>Aggreko – Bringing power to life
Around the world, people, businesses and countries are striving for a better future. A future that needs power and the right conditions to succeed.
That's why at Aggreko, we work round the clock, making sure you get the electricity, heating and cooling you need, whenever you need it – all powered by our trademark passion, unrivalled international experience and local knowledge. From urban development to unique commercial projects and even humanitarian emergencies, we bring our expertise and equipment to any location, from the world's busiest cities to some of the most remote places on earth.
Every project is different, so we listen first and design a system around you, delivering our service and support anywhere, to any scale. Transforming the lives and livelihoods of individuals, organisations and communities across the globe.