Desiccant Dehumidifier Rental Units
Featured Product from Aggreko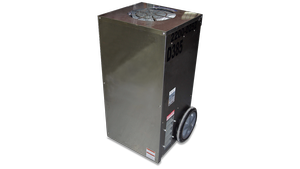 The Aggreko's 200 cfm Desiccant Dehumidifiers rental units are custom made and are designed to remove up to 969 gallons of moisture per day. Suitable for manufacturing and construction, Aggreko dehumidifiers help reduce concrete drying time, allow for faster painting and coating, and aid in minimizing corrosion. They are perfect for drying out water-damaged buildings and the prevention of mold and fungus growth, thus eliminating the need to replace and/or reconstruct.
Aggreko's Desiccant Dehumidifiers are critical components for the reduction of high humidity levels which could cause condensation and corrosion to develop and effect your business's critical operations.
Features
Desiccant capabilities from 200 to 10,000cfm.
Capable of reaching lower dew points than refrigerated systems.
Fridge-drying packages also available to 30,000cfm.
Temperature control accessories are available, including a variety of compatible pumps, hoses and valves; duct rated to 250° F; and remote thermostats that easily incorporate into most Aggreko equipment.