Oil-Free Diesel Air Compressor Rental
Featured Product from Aggreko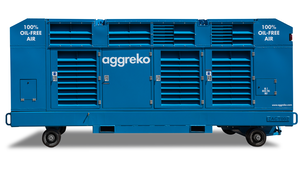 Aggreko's 1600 cfm Tier4 Diesel Compressor rental units are capable of delivering 100% oil-free air at pressures up to 150psig and a flowrate of 1600cfm, using diesel motors as the source of compression. The availability of 100% oil-free air is often critical in maintaining the safe operation of your equipment and projects. Oil-laden air contaminates pneumatic systems, fouls critical instrumentation orifices, and produces unsafe environmental condensate. Aggreko's 100% oil-free air compressor rentals and services provide the compressed air, air cooling or air drying solutions your company needs.
Features
Tier4 1600 CFM Diesel
Fuel spill avoidance. Aggreko's "Save-All" containment base minimizes fuel spillage in upset conditions.
Aftercooling limits. Our diesel air compressor rentals have aftercooling that limits that discharge temperature to only 15°F above ambient - an industry-leading performance feature. Our electrically-driven units can be provided with aftercoolers to keep discharge temperatures within 20°F of ambient.
24/7 Aggreko Remote Monitoring
Benefits
Environmental considerations. Diesel units have exhaust levels well within EPA and California Air Resources Board (CARB) standards.
Noise reduction. Sound attenuating canopies keep noise levels at a minimum.
Proactive monitoring by Aggreko's Remote Operations Center (ROC) to ensure maximum uptime. Customer monitoring & notifications available through Aggreko's ARM app and portal.