Power Problems Solved with Generator Rentals
Featured Product from Aggreko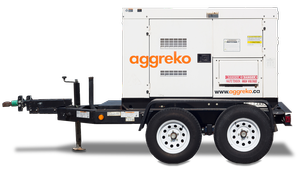 The Aggreko 100 kW diesel electric power generator is the solution to your commercial or industrial needs. Whether you are facing an emergency outage, a planned project, or a temporary surge in demand, Aggreko generators are available 24/7/365, and can get to you when and where you need them - quickly. These portable, trailer-mounted generators are ideal for construction and contracting and feature unique synchronizing and load-sharing capabilities.
Benefits
Available voltages - 120/40 single phase, 208/120V, 480/277V
Contain spillage - SaveAll containment base reduces engine fluid spillage
Operate quietly - Sound attenuated design, for quiet operation and minimal noise impact to surroundings
Run longer - Integral large-capacity UL-approved fuel tank
Offer improved efficiency - 45º ambient clearance resulting in efficient operation in higher ambient temperatures
Are clean-operating - EPA-certified engines reduce exhaust emissions
Proactive monitoring by Aggreko's Remote Operations Center (ROC) to ensure maximum uptime. Customer monitoring & notifications available through Aggreko's ARM app and portal
Aggreko offers solutions for rental power needs of all sizes and shapes, from temporary, single-site power, to baseload-scale, multi-megawatt power for regional grids. We focus on delivering precisely what each client needs, when they need it.