Urgency for renewables development in 2021
Featured Product from Aggreko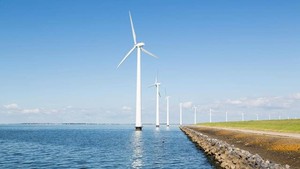 On-site Power to Get Turbines Online
Wind farm developers move quickly to get turbines online, not only to meet project deadlines, but also to ensure the turbines qualify for maximum tax credits and accelerated depreciation. Because the Production Tax Credits are scheduled to decline over time, missing a deadline for having turbines online can cost operators millions of dollars annually.
While not a widely known fact, wind turbines need power to start and, at times, for continued operation. Power must be available for the starter motors used to overcome inertia in lower winds. In addition, while wind turbines are designed to provide their own power for ongoing service, supplemental power must be available to ensure continuous operation of yaw mechanisms, oil heaters and pumps, gear box coolers, hydraulic motors, electronics and other equipment.
So, when turbine installation and commissioning timelines precede the availability of grid power, Aggreko power generation solutions are relied upon to bring systems online. Aggreko doesn't just rent the equipment. We make sure you have a complete system that will get the job done and you maximize tax incentives and avoid liquidated damages.
Our engineers and technicians have designed systems and processes specific to the needs of wind farms.
When necessary, Aggreko can respond quickly to short deadlines, utilizing its vast fleet of industrial-grade power generation solutions.
Aggreko on-site installation technicians ensure a smooth and timely startup.
It's a proven system, from a proven company, that wind farm developers can trust.
While providing commissioning power is the most prevalent application for Aggreko power solutions, we provide expertise and equipment for every phase of the wind farm life cycle:
Construction — Rental power for construction trailers, testing and long-term nacelle storage
Pre-commissioning — Rental power to ensure integrity of controls and electronics
Commissioning — Generators and load banks for commissioning prior to connection to the grid
Post-commissioning — Low-voltage power for ancillary equipment, including heaters, lighting, hydraulic pumps; high-voltage packages to power the entire system, i.e., turbines, transformers and switchgear when grid power is not available
Operation and maintenance — Power, heating and cooling during planned utility outages or tower maintenance
The following represents the typical system Aggreko deploys for wind turbine commissioning:
Watch>>>Aggreko – Bringing power to life
Around the world, people, businesses and countries are striving for a better future. A future that needs power and the right conditions to succeed.
That's why at Aggreko, we work round the clock, making sure you get the electricity, heating and cooling you need, whenever you need it – all powered by our trademark passion, unrivalled international experience and local knowledge. From urban development to unique commercial projects and even humanitarian emergencies, we bring our expertise and equipment to any location, from the world's busiest cities to some of the most remote places on earth.
Every project is different, so we listen first and design a system around you, delivering our service and support anywhere, to any scale. Transforming the lives and livelihoods of individuals, organisations and communities across the globe.