Replacement Cylinders and Parts
Product Announcement from Aggressive Hydraulics Inc.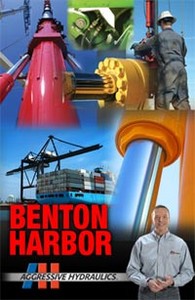 At Aggressive, we offer you the most popular replacement cylinders for the mobile truck equipment industry. Standard dump body and refuse cylinders are in stock at 4 locations through-out the United States. When it's no-longer cost effective to repair or you need a replacement cylinder NOW! Aggressive has the solution for you.
In stock and ready to ship from one of our nation-wide stocking locations
Benton, AR
Phoenix, AZ
Columbus, OH
Seattle, WA
View Parker Replacement Cylinder Guide
Aggressive Hydraulics owns the original cylinder and parts drawings, as well as, the casting Patterns for Benton Harbor Engineering.
These prints represent thousands of cylinders and service parts used by original equipment manufactures such as Koehring, Terex, Altec, Bantam, and PPM, to name a few. If you are in need of cylinders and service parts originally manufactured by Benton Harbor Engineering, contact us today.
---