Custom Air Core Inductor Coils
Product Announcement from Agile Magnetics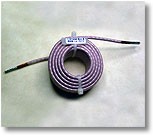 Agile Magnetics designs and manufactures custom coils including a wide variety of air coils for uses including strong magnetic resonance coupling(used in wireless power transfer). Since 1992, the professionals at Agile have been regarded as the cutting edge of coil design and manufacturing. Agile Magnetics produces a wide range of coils, including air core inductor coils.
Agile Magnetics is a state of the art, 40,000 sq/ft manufacturing center in Concord, NH for variable volume, custom, and contract manufacturing of magnetics, transformers, inductors, and coils. We make components that are trustworthy, reliable, and on spec - in construction and delivery.
Call Toll Free 800.805.8991 or email Agile for your air core inductor coil needs.
---