Custom Ferrite Inductors
Product Announcement from Agile Magnetics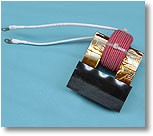 Agile Magnetics will work with your company's team to determine what material is the correct solution for your ferrite inductor needs. Ferrite inductors are constructed of a ceramic magnetic material with ferric oxide and combinations of manganese, zinc, or nickel. Our experienced, calculated approach to finding a match for your needs makes Agile a valuable resource saving you time, trouble, and money. Part of our advantage is that we manufacture the ferrite core inductors in our Concord, NH facility thus maintaining flexibility and control.
Our staff will work with you to assess the acceptable circuit loss, along with rated current, dielectric strength and required inductance - all of which are important factors.
All the products manufactured by Agile are built to UL / CUL / VDE and CE, with UL and CUL markings if required. Regional Mfg. Specialists is an ISO 9001 compliant manufacturer.

Agile Magnetics is the industry leader in the design and manufacturing of ferrite inductors. Housed in a state of the art, 40,000 sq/ft manufacturing center in Concord, NH, we are a variable volume, custom, and contract manufacturer of magnetics. We make components that are trustworthy, reliable, and on spec - in construction and delivery.
Call Toll Free 800.805.8991 or email Agile Magnetics for your ferrite inductor needs.
---