Custom Instrument Transformers
Product Announcement from Agile Magnetics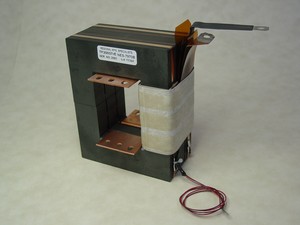 Agile Magnetics, experts in the design, manufacturing, and sourcing of custom magnetics announces its new line of power transformers designed specifically for the OEM instrument industry.Agile Magnetics manufactures instrument transformers designed to change the line voltage to meet the needs the customer has for control voltages, with high performance and reliability. Instrument transformers can be manufactured in a range of sizes, from broad mount capabilities to compact.
Instrument transformers are the key component in the relay of current and voltage from an instrument's power source to control devices, relays, motors, and meters. Additionally, instrument transformers provide analog information that assists with the monitoring, control, operation, and protection of the power system they are connected to. The designers and engineers at Agile work with your company to assess the voltage, VA rating, and physical size requirements to develop instrument transformers that are the perfect solution to your transformer needs.

Agile Magnetics instrument transformers are computer modeled with Agile's proprietary software. Specialists at Agile computer test 100% of the instrument transformers we manufacture. Additionally, full lot data is supplied with each packing slip when requested. Instrument transformers designed and manufactured by Agile are built to UL / CUL / VDE and CE, with UL and CUL markings when required.
About Agile Magnetics:
Agile Magnetics is an ISO 9001 compliant manufacturer with a state of the art, 40,000 sq/ft manufacturing center in Concord, NH for variable volume, custom, and contract manufacturing of magnetics, transformers, inductors, and coils. .
Call Toll Free 800.805.8991 or email Agile for your iron core inductor needs.
---