Custom Iron Core Inductors
Product Announcement from Agile Magnetics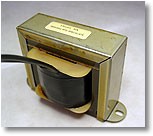 Agile Magnetics is an experienced manufacturer of iron core inductors. Agile manufactures and designs a wide range of inductors, using iron or special alloys that can be designed to meet your company's unique requirements and exact specifications.
Agile has supplied iron core inductors for use in a variety of applications including, AC load banks, audio equipment, high energy physics, industrial power supplies, inverter systems, power conditioning, rapid transit, and many others.

Agile also designs and manufactures powered iron core inductors. Powered iron core inductors are manufactured with a non-conductive powder that assists in the reduction of eddy currents to increase frequency and current capabilities.

Agile Magnetics is an ISO 9001 compliant manufacturer with a state of the art, 40,000 sq/ft manufacturing center in Concord, NH for variable volume, custom, and contract manufacturing of magnetics, transformers, inductors, and coils. We make components that are trustworthy, reliable, and on spec - in construction and delivery.
Call Toll Free 800.805.8991 or Email Agile for your iron core inductor needs.
---