Filter Media...ProFix(TM)
Product Announcement from MaxFlo® an Agrilectric Research Brand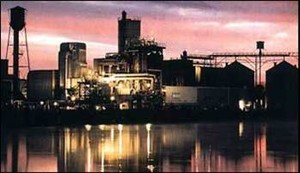 Agrilectric has been at the forefront of the industry's drive toward environmentally friendly initiatives by continuously providing new and innovative filtration products, systems and services.
State-of-the-art Soluble Metals Sequestration
Agrilectric is showcasing its ProFixTM filter media . This product combines Agrilectric's amorphous silica filter aid with proprietary ingredients for sequestering soluble metals. The media combines its highly porous structure and surface chemistry properties to maximize absorption, then stabilizes the metals into a leaching resistant matrix. ProFix has been used to treat Lead, Nickel, Chromium, Molybdenum, Zinc, Mercury, Aresenic and other heavy metals, and consistently passes TLCP and other testing.
About Agrilectric Research Corporation
Agrilectric Research Company, a subsidiary of The Powell Group, is a global leader in rich hull ash based filtration, separation and sorbent products, providing solutions to meet the critical fluid management needs of customers across a broad spectrum of industries. Agrilectric works with customers to advance health, safety and environmentally responsible technologies.
The Powell Group, LLC, in business for over 100 years, is a thriving, multi-faceted operation, which continues to pioneer new opportunity for technological advancement and economic prosperity into the new millennium. It is characterized by its subsidiaries - dynamic and forward thinking entities that are leaders in their fields, important to their local economies, and sensitive to needs of commerce. For more information on The Powell Group, or its subsidiaries, please visit us at www.powellgroup.com
Contact:
Agrilectric Research Company
Edward A. Rapp
Director of Sales & Marketing
Telephone: 337-421-6355
Email: erapp@agrilectric.com
---