Air Cycle's Bulb Eater®
Product Announcement from Air Cycle Corporation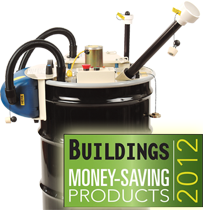 Air Cycle's Bulb Eater® Named a 2012 Money-Saving Product
Air Cycle is proud to announce that The Bulb Eater® was named a 2012 Money-Saving Product by Buildings Magazine. The Bulb Eater is part of an elite group of 77 products chosen out of over 150 submissions. Finalists were based on the money-saving qualities offered to building owners and facility managers in areas such as energy consumption, water savings, lighting, envelope improvement, and maintenance.
The Bulb Eater® can reduce lamp recycling costs by 50% or more, typically between 10 cents and $1 per lamp. The Bulb Eater holds up to 1,350 4-foot fluorescent lamps in one 55-gallon drum, reducing storage space requirements for the same quantity of boxed lamps by 80%. It can crush 4-foot fluorescent lamps in 1 second, speeding the lamp packaging process. The crushed material is 100% recyclable, and the process captures over 99.99% of mercury vapors. EPA and OSHA compliant!
Recycling spent lamps with the Bulb Eater is simple and convenient, encouraging a high recycling participation rate among facility workers, increasing regulatory compliance, and reducing the risk of fines. When a drum of crushed lamps is full, Air Cycle will arrange for it to be picked up and recycled at the nearest EPA-approved recycling facility.
Quick Facts
Crushes straight lamps of any length
Crushes u-tube lamps (model VRS-U only)
Crushes a 4-foot fluorescent lamp in 1 second
Reduce labor by up to 20 hours per 1,000 lamps
Save up to 50% on recycling costs
Minimize storage space by up to 80% with lamp crusher
The most fun you can have disposing of lamps!
Did You Know?
Awarded "Top 100 Product" by Buildings Magazine
Awarded "Money-Saving Product" by Buildings Magazine
Named Reader's Choice "Product of the Year" by Today's Facility Manager Magazine
Seen on the cover of The Wall Street Journal
Currently over 6,000 Bulb Eaters in use worldwide
New CFL Crushing Model now available!
Contact us today for a quote!
---